Freshmap for Windows or Mac
Freshmap for Windows (Version 22, 2022)
For Windows 7, 8, 8.1, 10, 10, 11

Freshmap for Mac (Version 13, 2022)
For High Sierra, Mojave, Catalina, Big Sur, Monterey

Freshmap features - mapping for Windows or MAC
Updated maps
Freshmap shows track rise/fall in properties and profile.
Freshmap shows major DOC boundaries with description information.
DOC descriptions are searchable. (Queen's chain along rivers is not shown.)
DOC boundaries are shown by a green line
Cadastral mapping - property boundaries, "paper roads", identification of conservation land.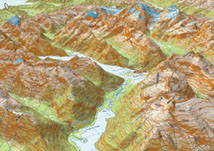 Freshmap also provides a 3D view of the terrain as per the image. You can also fly in 3D a track you've created on the map. This is an image of Freshmap in 3D mode. It's great for seeing the contours in the mountains.

3D is only available in the WINDOWS version of Freshmap.