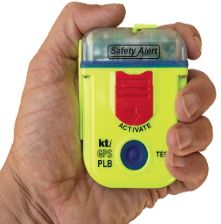 KTI SafetyAlert PLB
MapWorld's price $499
For great performance the KTI SafetyAlert PLB is GPS equipped with a location accuracy of less than 10 metres. The GPS receiver is coupled to a chip style antenna which provides high sensitivity together with superior resistance against detuning by nearby objects.

FEATURES:
Size: Compact, lightweight design
Antenna: Marine grade stainless steel, flexible, multi-position
Buoyancy: Self buoyant – no need for external flotation aids
Strobe: High intensity photo-flash LED
Activation: Simple one-hand activation
Carry Pouch: Camera style carry pouch with belt loop
Lanyard: Detachable with pictorial instructions and whistle
Mirror: Supplied with high reflectivity mirror
Warranty: 10 year parts and labour
SPECIFICATIONS:
Frequencies: 406.040MHz and 121.500MHz (homing signal)
Battery: Non hazmat LiFe02, 20 year shelf life, 10 year replacement
Weight: 140g
Size: 88mm x 64mm x 31mm
Accuracy: Limited only by COSPAS-SARSAT system
Approvals: COSPAS-SARSAT T.001 class II TAC 255, AS/NZS 4280.2
Protocol: Programmable to all applicable COSPAS-SARSAT message formats
Strobe: Greater than 1cd, 20 flashes per minute
GPS SPECIFICATIONS:
66 channel receiver
5 minute position updates
accurate to less than 10 metres (CEP50)
Cold start acquisition time less than 35 seconds typical
Chip style antenna design, highly resistant to detuning by nearby objects.